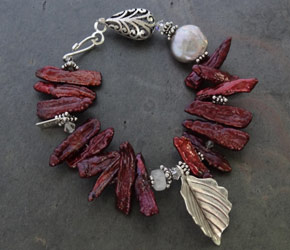 Jewelry designer, wife, nature lover and cat mamma: at home in Asheville, North Carolina.
For me, making and wearing jewelry is about having fun. It's about accessorizing your mood, style and love for life whether you keep it simple or make a statement. It's about the relationship that develops with that 'one' piece of jewelry you wear everyday or with your favorite party earrings. Making and wearing jewelry has always brought me great joy which I am thrilled to pass along to my clients.
My one‐of‐a‐kind jewelry designs incorporate semi­precious stones, freshwater pearls, Swarovski crystal; and sterling silver beads, chain, and findings. Similarities and continuity are evident among my main styles, but I tend to work in series, making each piece slightly different than the last (with an extra touch here and there). Each piece is a unique and modern take on both current and classic jewelry styles: suitable for every age. Sophistication, function, and my artistic aesthetic dictate each design; resulting in a piece that is truly special.
All of my jewelry is made solely by me, in limited editions or by custom requests.