Jewelry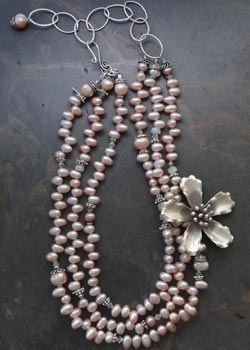 Necklaces
All of my one of a kind necklaces are designed to be asymmetrical; or rather designed in the "round," allowing the eye to continuously move throughout the piece in a circular fashion creating a balance: no end or no beginning. Similarities and continuity are evident among my main styles, though I tend to work in series, making each piece slightly different than the last--with an extra touch here and there. I use only sterling silver wire, clasps, ear hooks, chains, logo tags, and crimps; my beads are cultured freshwater pearls, semi-precious stones, Swarovski crystal, Hill Tribe Thai silver and Indian silver beads unless otherwise NOTED.
Some of my beads and pendants are hand-crafted by me using Precious Metal Clay (PMC). PMC is a material that was created by the Mitsubishi Company in Japan for the use of professional jewelers in the States. It is a silver powder that is suspended in an organic/polymer base. While being shaped, PMC has clay- or polymer clay-like properties. Once it is formed into the desired shape, the PMC is fired at 1200-1470 degrees Fahrenheit, burning out the binders and leaving a cured hard silver piece. After firing, each PMC piece goes through a 4 step polishing and oxidization process. (Average start to finish time for each piece = 2 days or equivalent to 3 hours of hands-on labor).
All of my PMC creations are one of a kind, the perfect marriage between clay and metal! Sadly, although it is a great deal of fun to work with, PMC is an expensive material.