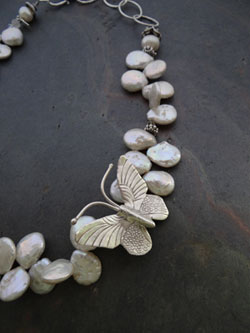 About Me
Living in such a vibrant and beautiful locale as Asheville NC, I find inspiration everywhere. From the mountains to the eclectic fashions worn by locals, my garden, the birds at the feeder, or the sunlight in my kitchen: color, design, and texture regularly influence my designs.
After receiving my BFA in ceramics from Miami University of Ohio, I relocated to Asheville in 1995. Via many part-time jobs and an opportunity to further my education at Penland School, I was able to establish a personal pottery studio creating functional porcelain tableware. But over a decade ago, I followed my passion for making jewelry and transitioned my business focus from pottery to jewelry. Since then, I continue to create designs that are beautiful, unique, inspiring, versatile, and solicit compliments everywhere worn.
I am available for consultation, custom orders or questions by phone or email.


You can also find me, in person, at any number of private Trunk Sales.


Trunk Sales are generally hosted by a discerning client, who opens their home to invited friends and family. There, one can peruse my complete inventory with the added benefit of being able to touch, try on, and consult directly with me. These Trunk Sales are an informal, intimate, small­scale event; lasting for just a couple of hours.


Interested in hosting a Trunk Sale? Please contact me to talk further or to receive an updated Sale schedule.
To shop online: check out my Etsy Store and follow me on Instagram, Facebook, or my blog westashevillelife.com.