Jewelry > Necklaces

Nola Necklaces
The NOLA is my first signature design. Named after my late mother, who always fussed over my necklaces when the clasp moved towards the front of my neck, this necklace that has no "back" or "front." It features a semi-precious stone sterling silver "S" clasp from Nepal as well as a dangle of beads with a charm, which serves as an extra design element. Wear these necklaces with the clasp in the front and the dangle as a pendant or with the clasp in the back and the dangle as an extra design surprise. However you like--there's no wrong way to wear it!
Blue-Gray Pearl Rosary NOLA Necklace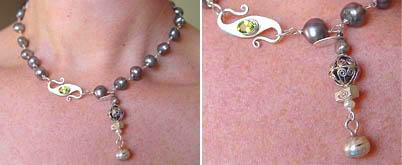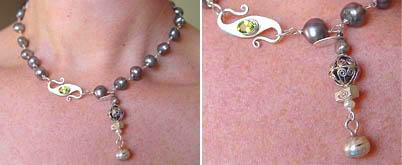 Blue-gray pearls, faceted Peridot stone clasp, and lotus drop. This is my first NOLA design. Larger pearls are linked together with sterling silver wire, creating a light, simple, elegant necklace. This design is perfect for those who do not wear much jewelry or for those who want something to wear with loungewear on an evening out. The choker is 17"L
$120.00
White Pearl Rosary NOLA Necklace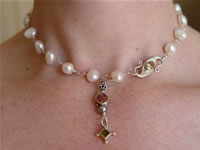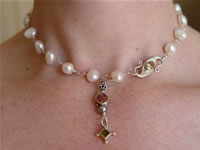 Rosary NOLA large white pearls w/faceted Citrine stone clasp, Cloisonné faceted Peridot charm.
$120.00